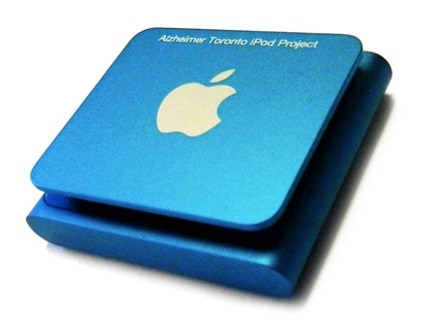 There's new hope for anyone with a formal diagnosis of dementia living in the Greater Toronto Area. Since January, the Alzheimer Society of Toronto will provide an iPod Shuffle, iTunes credits to download favorite songs, and help for caregivers and family members to bring the benefits of personalized music into their lives.
Inspired by a screening last fall of the Music & Memory documentary, Alive Inside, and a presentation by Music & Memory's Dan Cohen and film director Michael Rossato-Bennett, the Society launched their Music & Memory: iPod Project as part of their Creative Arts Therapy programming. More than 42,000 people with Alzheimer's and dementia live within the organization's service area.
Bringing the Benefits of Personalized Music into the Home
"The most amazing things have happened," says Sabrina McCurbin, iPod Project coordinator. Their first request came from the daughter of a woman with Alzheimer's who became extremely stressed at the doctor's. After receiving her iPod, loaded with her favorite music, all that changed.
"The daughter's seen Mom go from someone who is anxious and irritated at medical appointments to dancing and getting the attention of everybody in the doctor's office," says McCurbin. "Mom's making a scene, but a great scene, and she's getting everyone else interested and saying, 'Wow, what a great idea!'"
Emphasizing Creative Therapy Through the Arts
To date, this is the most ambitious community initiative to spread Music & Memory's personalized music program to people facing dementia. "Creative therapy through the arts is a big emphasis here," says Marija Padjen, Chief Program Officer. "It fits in with our philosophy."
Though anyone can pick up an iPod for their loved one and load it with music, the iPod Project offers the iPod Shuffles with free set-up support to tailor playlists, so long as the caregiver or care recipient lives within the Toronto metropolitan area and is willing to accept a call from a Society counselor.
Bringing a Reprieve, Relief and Joy to People's Lives
Padjen says they are tracking project outcomes, collecting baseline data about when the music is used and reactions, as well as evaluating how the program affects caregivers' stress levels. In addition, they are listening closely. "To me, success is in the stories," says Padjen, "to know that big stresses for a family, such as going to the doctor, are no longer there."
"It embodies the essence of why we do what we do," says McCurbin. "To just bring a reprieve, bring a little relief and joy to people's lives. It's a great feeling."
Funding for the Toronto project is provided by the George C. Hunt Family Foundation, with guidance from Linsey Norton of the Alzheimer's Association of Central and Western Kansas, and Dan Cohen, Music & Memory's Executive Director.
Padjen and McCurbin shared their story with Mary Ito on CBC Radio One's Fresh Air, January 26, 2013. You can listen to the broadcast here.
And if you want to learn how to bring the benefits of personalized playlists to a loved one in your own home, please download Music & Memory's free guide, How to Create a Personalized Playlist for Your Elder at Home.
The Alzheimer Society of Toronto's promise to the more than 42,000 people in Toronto living with Alzheimer's Disease and other dementias—as well as their families and caregivers: We're here for you . . . every step of the way. The Society keeps that promise by providing free counseling, support groups, education, resource materials, as well as dementia-care training for health-care providers and increased public awareness of dementia. 
Founded in 2010, Music & Memory® is a non-profit organization that brings personalized music into the lives of the elderly or infirm through digital music technology, vastly improving quality of life.