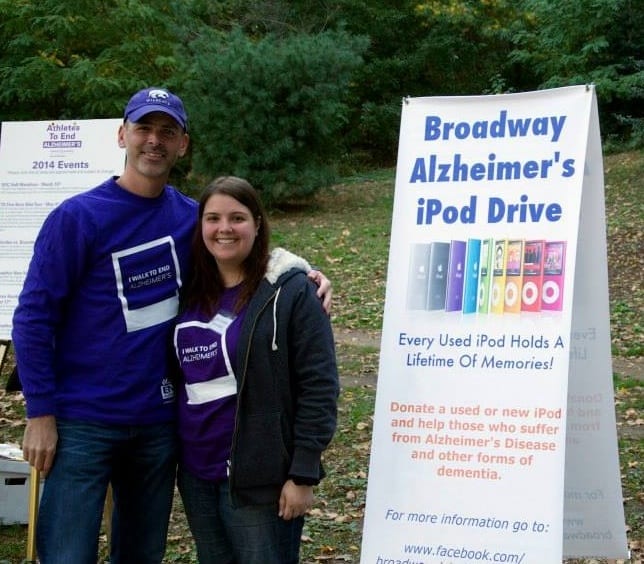 It all started with an internship. Alexis Gregos was a psychology undergraduate at Adelphi University in Garden City, N.Y., looking for meaningful field work to enhance her studies. She had just lost a grandmother to Alzheimer's. Searching through a list of potential non-profit placements, she noticed Music & Memory. It seemed like the perfect fit.
And, indeed, it has been. That undergrad internship two years ago eventually led to Alexis's current position as Community Outreach Coordinator. Now in graduate school at Adelphi, she balances coursework with her part-time responsibilities, guiding Music & Memory volunteers to run iPod donation drives, helping volunteers introduce the program to nursing homes and managing the organization's social media channels.
Helping Volunteers Get Involved with Music & Memory
"I love meeting people from all over and listening to their stories about how music has impacted their lives or the lives of their family members," says Alexis. "I have been fortunate to represent Music & Memory at a variety of Walks to End Alzheimer's in metro New York and really got to see how the disease impacts so many people—and how those people love and support what we do."
Spreading the word about the benefits of Music & Memory's personalized music program—how it enables individuals with Alzheimer's, dementia and other cognitive and physical challenges to reconnect with the world and their own humanity—is one of the best parts of the job for Alexis.
"When I first helped set up the Facebook account two years ago, we were thrilled to have 25 people who 'liked' our page," she says. "Now, a little over two years later, we have more than 3,000 followers. People are always interested in how they can donate or get involved. That's probably my favorite part of social media outreach."
Personal Experience with the Power of Music
The message is personal, too. Having lost one grandmother to Alzheimer's before she was involved with Music & Memory, Alexis and her family have been able to apply what they've learned about personalized music to help her other grandmother, who lives with the family and also has memory challenges.
"I see the power of music every time we play songs from her youth and she perks up," says Alexis. "It is truly amazing to see someone go from non-communicating and sleeping all day to being awake and alive. Particular music, like patriotic songs, are real winners for her. She even likes to conduct the orchestra while she sings the music she remembers.
"Having been surrounded by this disease a good part of my life, I know how devastating it can be for the individual and their family," she continues. "But I have also seen how something as simple as music can improve the person's quality of life."
What's next for Alexis? Once she completes her MA in General Psychology and Advanced Certificate in Human Resource Management next May, she hopes to continue helping Music & Memory to grow. Says Alexis, "I am very proud to be a part of this organization."
Founded in 2010, Music & Memory® is a non-profit organization that brings personalized music into the lives of the elderly or infirm through digital music technology, vastly improving quality of life.