One of Abbie Kalemba's fondest memories of her maternal grandmother, Kay Tanner, is of gathering around the piano with her two sisters and 11 cousins, singing and dancing to the Hokey Pokey, as Kay played.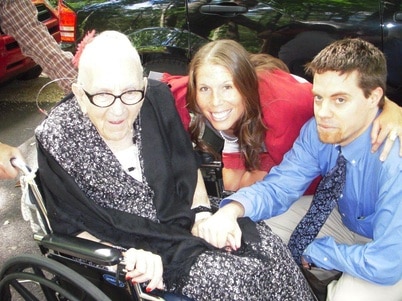 "It didn't matter how old we were," says Abbie, a hospice nurse near Portland, Oregon. "Even as adults, whenever we got together, that was her standard." A gifted pianist since childhood who played for her church, in the preschool where she taught and accompanying many students, Kay incorporated music into everything she did. She loved to play and sing Blue Skies and Up the Lazy River, too, but "she could play anything," says Abbie.
"She Would Always Burst Out in Song"
Even when Kay developed Parkinson's in her last decade, she was still able to play the piano at her nursing home, to the delight of other residents. It was only during her final year in 2012, as her dementia and coordination worsened, that Kay struggled to find the notes. Even still, when family visited, they would sing to and with her. Despite Kay's cognitive challenges, "she would always burst out in song," says Abbie. "It was fascinating." So this August, when Abbie and her husband, oncologist Patrick Archie, decided to formally celebrate their marriage (they wed two years ago, without a ceremony), they also decided to mark the occasion in Kay's memory, just over a year after her death. In lieu of traditional wedding gifts, they asked their guests to contribute to Music & Memory.
A Meaningful Alternative to Traditional Wedding Gifts
"We wanted to do something more meaningful," says Abbie. Through Patrick's research for an article for the Journal of Supportive Care in Cancer on how music benefits cancer patients, the couple learned about Music & Memory's work to bring personalized music playlists to people struggling with Alzheimer's, dementia and other cognitive and physical challenges; musical favorites can help these individuals reconnect with the world when memory has failed or enable them to overcome the pain of debilitating disease. Asking for donations via Music & Memory's platform on Razoo, a fundraising website, as well as at the wedding, the couple raised about $800. Pairing Music & Memory with their celebration was all the more appropriate because of Patrick's own background as a guitarist and music producer; international musician friends joined to honor the couple and perform at their wedding.
Carrying on Kay's Musical Legacy
"Music & Memory was the perfect fit," says Abbie, who also plays the piano, inspired by her grandmother. She hopes at some point to bring her own musical talents to her patients at Heart of Hospice in Hood River. "There's a beautiful grand piano that I'd love to play for them," she says Right now, however, she's busy balancing a profession she loves with caring for the couple's 4-month-old son, Owen. Given all the musical talent in the family, chances are it won't be long before Owen is singing and dancing the Hokey Pokey, too.
Founded in 2010, Music & Memory® is a non-profit organization that brings personalized music into the lives of the elderly or infirm through digital music technology, vastly improving quality of life.