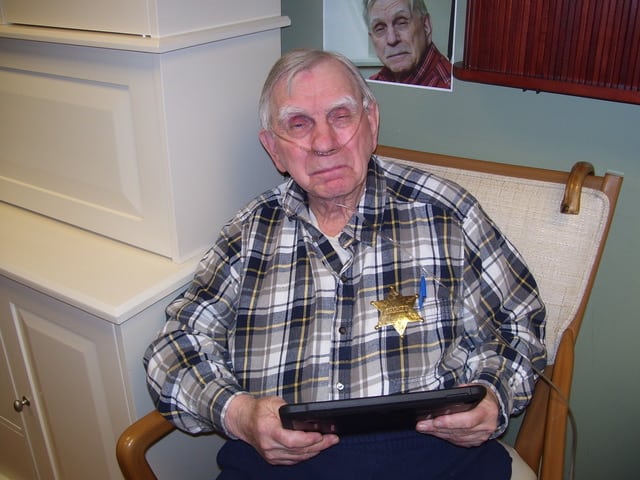 Oneida County Long Term Care may have only 32 beds, but that hasn't stopped Cindy Dawson from dreaming big. In charge of medical data systems for the small skilled nursing facility, located 13 miles north of the Utah border in Malad, Idaho, Cindy wanted to take a giant step beyond Oneida's MUSIC & MEMORY® personalized music program to bring other forms of technology-based mental and emotional stimulation to residents.
So, she applied for a $50,000 CMP grant to expand access to technology. Her case was clearly persuasive, because the full request was awarded in January 2016, enabling Oneida to purchase smart TVs for every room, even a digital baby grand piano, among other items, as well as a new wireless network for their residential building. How did she pull off such a large grant for such a small care setting? "Because I said I could," says Cindy.
Thanks to her efforts, Oneida also received a grant from Music & Memory for several digital tablets in April 2016. In addition, they participated this past summer in a Music & Memory pilot program to test digital tablet applications in nursing homes, funded by a generous grant from the Consumer Technology Association Foundation (CTAF).
Making Connections Around the World
That can-do attitude has enabled Oneida residents to regain a sense of personal agency. Tablets have reopened a window to the world via the Internet. One resident, a Native American man originally from New Mexico, listens to Navajo news and virtually attends powwows. Another resident was able to participate in a funeral for her twin sister via Skype. A third, who is 102, uses her tablet to shop with money that her son gives her on a debit card; recently she purchased a wedding gift for family in England.
The tablets have also provided an important intervention for individuals with dementia. "If someone has problems remembering things or is in the middle of an 'escape,' trying to leave the facility, we'll take it to them and say, 'Oh, look at this,' whatever their favorite thing is," says Cindy. The distraction can calm and redirect the individual.
Other residents use the tablets to listen to music, or to virtually attend religious services or conferences. Some volunteers whom Cindy trains to conduct oral histories have used the tablets to collect family information and upload details as well as scanned photos to oral history websites.
Meeting Individuals "Where They're At"
That's not to say that every resident at Oneida wants access to a tablet. Says Cindy, "We meet them where they're at." For some, that means listening to music on a cassette; for others, using a CD player. But experience has taught her that everyone can adapt to new technology at their own pace.
Digital music devices loaded with personalized playlists remain popular, with powerful results. One resident, who was totally uncommunicative, came to Oneida heavily medicated on five drugs. Cindy was convinced that the medications were affecting her behavior and worked with staff to reduce them, while offering her a personalized playlist. The woman is now down to reduced dosage on one medication, and Cindy expects her to no longer need it at all.
"She now turns her head, she's not in that catatonic state any more, she participates with others," says Cindy. "If she sees someone using a tablet, she'll sit down and use it. She runs around with an iPod, listening to her music. She will actually come to me and ask for it."
Culture Shift for Staff, Too
Staff have certainly noticed the benefits. Where once they were wary of the new technology, Cindy says more are coming to her with requests: "They'll say, 'Oh my gosh, what can I do? I need some technology. Give it to me now!'"
In addition, the technology's visible benefits have inspired about a half-dozen families to buy tablets for their family members, and two residents now own their own laptops.
"We're using technology everywhere you turn," says Cindy. Innovations include smart TVs in every room (most are doubles) that are loaded with roommates' individual playlists and family photos, so that each can watch a personalized music slideshow on the TV. There are also smart TVs for the day room, family room and hallways, all with Internet access. Programming includes images from around the world accompanied by calming music, YouTube videos, and individual's playlists, which are stored on thumb drives. Residents use wireless headsets to avoid accidents with tangled cords.
"This Is Their Home"
Facility-wide, the new technology has been transformative. "There's been a massive change," says Cindy, who has worked at Oneida since 2000. "We went from no-one participating in activities to everyone fighting over participating in activities. Our residents are so empowered that they make their own schedules."
The technology has also deepened relationships among the residents themselves. "Residents reach out and include each other in the experience of technology," she says. "They laugh, joke, dance and even compare hard times. It's helped to build friendships in an unexpected way."
These shifts are in keeping with leadership's belief that residents should feel at home at Oneida.
"This is their home," says Cindy. "They get to do what they want."
Personalized playlists were the first step toward empowerment. "Tablets open up a huge world," adds Cindy. "Technology makes them feel that they can still do things, and when you can still do things, you can still learn things, your mind is still stimulated. Because you're stimulated, you start taking control of your life. You have initiative.
"They're not left out anymore."
Founded in 2010, MUSIC & MEMORY® is a non-profit organization that brings personalized music into the lives of people with cognitive or physical conditions through digital music technology, vastly improving quality of life.