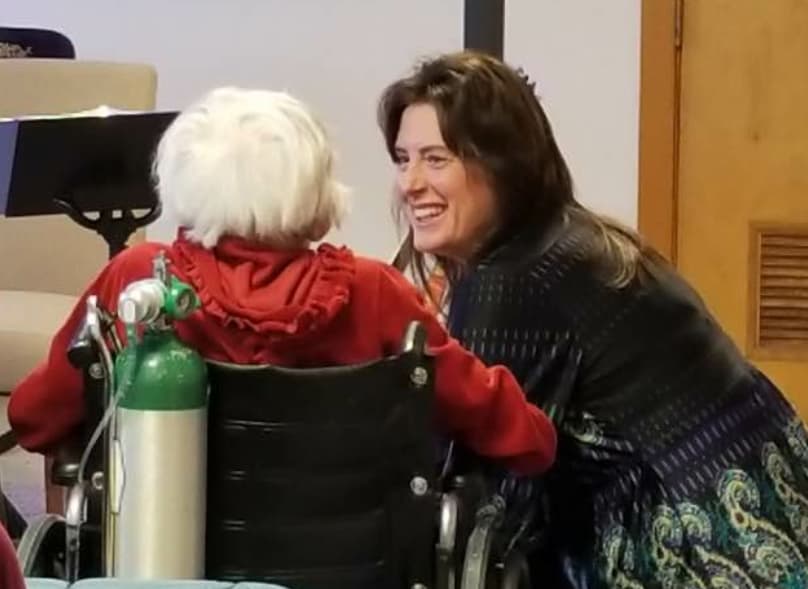 John was nearing the end of his life, no longer able to speak, when Carol Ann Jones brought her guitar to his bedside at a Vermont nursing home for another visit. She began to strum one of his favorite songs, Me and Bobby McGee. John's brothers were there, and one joined in with his harmonica. Everyone sang. John's eyes opened wide.
"There was so much love in that room," says Carol Ann. "You could see his body relax. You could see the joy in his eyes. He lifted his arms up and was waving to the music. When I got to the end of the song, all of a sudden all these voices joined me. He was waving people into the room—nurses, the chaplain. It was incredible."
Not long after, John died on Thanksgiving weekend. His wife called to thank Carol Ann for all her musical visits to his bedside. She attended his funeral. The experience inspired her to write his story in a new journal—the first of many stories of the hospice patients she played for at Saint Albans Healthcare and Rehabilitation Center. By the time the journal was full, she had written about more than 180 people's end-of-life journeys.
Raising Awareness and Funds for MUSIC & MEMORY®
An award-winning recreation assistant at Saint Albans who loves to play her guitar and sing for the residents, Carol Ann also helped to launch the 85-bed care community's Music & Memory program. She creates and updates personalized playlists for people in the memory care unit and runs bake sales and other fundraisers that have enabled Saint Albans to acquire 15 digital music devices. Inspired by a screening of Alive Inside, she volunteers her time for administering the program, in addition to her part-time paid work in recreation therapy.
Now Carol Ann has put her love of playing live music for residents and her experiences with hospice patients toward a new musical endeavor to raise money for Music & Memory and spread awareness of the personalized music program throughout Vermont. Inspired by a friend who loved the stories in her journal, she decided to write a one woman play based on 12 of the most interesting people she had met and sang for.
"The story of John is the first one," she says. "Then I play a couple of his favorites, Bobby McGee and Red River Valley. Then I go on to the next one, a very different story and music. There's a wide variety." At each performance, she includes a display of literature about Music & Memory and Alzheimer's, as well as a box to collect digital music devices.
After her debut in Saint Albans last July, people encouraged her to take her show on the road. "I'm going to do every county in Vermont," says Carol Ann, thanks to a $5,000 donation to Music & Memory from an enthusiastic member of the Saint Albans audience. At each stop, she makes a point to connect with the local home hospice agency and collect digital music devices for the nearest MUSIC & MEMORY® Certified Care Organization.
Building Personal Connections Through Beloved Songs
In addition to her Music & Memory road show, Carol Ann performs folksong singalongs at care communities around the state, as well her own show at area coffee houses. She also runs half marathons. A former accountant, she keeps the books for the family dairy farm. Even as the competitive organic milk market forced Carol Ann and her husband to make tough decisions about selling their dairy herd last June, she credits her husband with encouraging her to stick with her music.
What keeps her going—both playing for residents and promoting Music & Memory—is the personal connections she builds through beloved songs. "It's the joy, the pure, simple joy that you can bring. The awakening that happens," says Carol Ann. "It turns people around from being so lost and so confused and sad to, 'Hey, I'm with you!' It doesn't matter where we are, we've connected and we have this music, this sharing going on. It's just priceless."
Founded in 2010, MUSIC & MEMORY® is a non-profit organization that brings personalized music into the lives of people with cognitive or physical conditions through digital music technology, vastly improving quality of life.