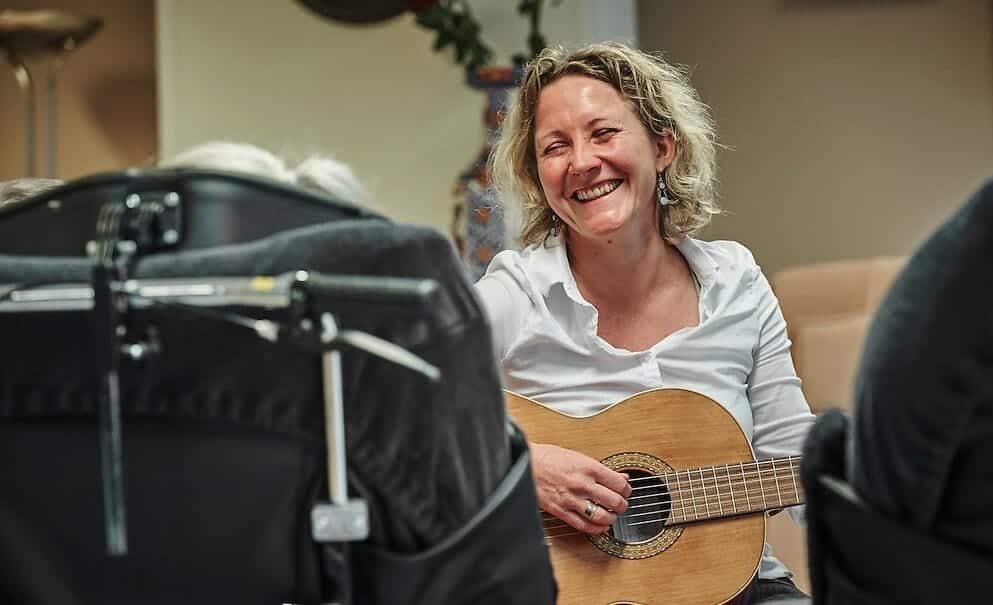 It all began in 2008 as an experiment with a handful of residents in four New York nursing homes. In the ten years since, MUSIC & MEMORY® has brought the power of personalized music to every state in the U.S., as well as Canada, Australia, Europe, the Caribbean, Israel and South Africa. And pilot programs are underway in Japan.
Shepherding Music & Memory's international expansion is Manon Bruinsma, a music therapist based in the Netherlands, who first heard of the program when she viewed the Henry video online. "People kept sending it to me and telling me this is going to be your thing!" she says. "It struck me like lightening."
That was just the beginning of what has become a passionate life's journey to bring the benefits of personalized music to her home country, as well as the rest of Europe and beyond.
Launching International Expansion from the Netherlands
Manon's first step was to contact Executive Director Dan Cohen, who put her in touch with another Dutch music therapist. Together, they took Music & Memory's training and began to set up personalized playlists for some of their clients—and learned a few lessons. "I thought the headphones would be isolating," she says. "And I thought people who were musical all their lives would respond the most positively, while people who had no musical involvement would not." Both assumptions proved to be false.
Intrigued by how Music & Memory was improving quality of life in nursing homes where she worked, Manon volunteered to field questions about the program from people outside the U.S. She also continued to advance the use of personalized playlists at nursing homes in the Netherlands. Then, in April 2015, she traveled to New York City to meet with Dan and formalize the founding of Music & Memory in the Netherlands; in addition, Dan asked Manon to direct the organization's European outreach efforts.
That role has vastly expanded to encompass the rest of Europe and Quebec. Today, there are 48 MUSIC & MEMORY® Certified Care Organizations in the Netherlands, including two on the Dutch Caribbean island of Curaçao. Manon has also helped to train care professionals in Quebec, the United Kingdom, Germany and Switzerland—she speaks Dutch, English, German and French.
Beyond Europe, five nursing homes in Israel are running pilot programs. Two nursing homes in Japan are also running pilots. Then there is Our Parents Home in South Africa, Music & Memory's first site on the African continent.
Through other partnerships, there are more than a hundred MUSIC & MEMORY® Certified Care Organizations throughout Australia and nearly 300 in Canada. And the inquiries keep coming—from Hungary, Denmark, Sweden, Austria, France, Italy, Poland, Portugal, Spain and Argentina. Research about the benefits and impact of personalized music is underway at universities in the Netherlands, Germany and Poland.
Cross Cultural Differences and Similarities in Caring for Elders
Keeping on top of it all is certainly a challenge. Manon travels across Europe to bring in-person training to new countries—first testing out translated materials and adjusting for cultural nuances in one key nursing home before expanding online training to other care communities in that country. "I feel like I have to scale up on a monthly basis," she says. "But it's hugely rewarding. When nursing homes at the forefront of dementia care adopt the program, it spreads from there."
The experience has highlighted cross-cultural similarities in elder care, as well as some striking differences. Budgets are being cut everywhere, Manon observes. High staff turnover is a persistent challenge, in part, she believes, because many countries are trying to keep people at home longer. By the time they are placed in a nursing home, they are much sicker, creating more stress for staff.
But, she adds, quality of care differs greatly from country to country, depending on tax revenues and the degree to which each government is involved in running the homes. In the Netherlands, for example, almost all nursing homes are publicly owned; compulsory public long-term-care insurance supports a high standard of care. In the U.K., by comparison, 70 percent of the homes are private. France requires families to be involved in their family member's care, including bringing food, to get a placement.
Emphasis on Keeping People at Home as Long as Possible
Across Europe, she sees a trend toward favoring home care over nursing homes. As Music & Memory develops new training for home care agencies here in the U.S., the demand for parallel training for European countries, as well as family caregivers, will undoubtedly increase.
Manon's big dream, to help meet the need, is to partner wealthier Northern European countries with Southern European countries that have fewer resources. "I had a call from someone in Hungary who wants to get Music & Memory running in their town, but its too expensive," she says. "I would love to get a country like Denmark or Sweden to be their sponsor."
Whatever the hurdles, Manon finds the work of Music & Memory's international expansion to be deeply rewarding. "The greatest thing is always getting a video or picture about how well it works, how it's changing lives of so many people," she says. "The way that people respond to music is universal. People ask me if I miss the one-on-one contact as a music therapist, but every time I hear a story that this worked, it's worth it. Music & Memory has widened my world."
Founded in 2010, MUSIC & MEMORY® is a non-profit organization that brings personalized music into the lives of people with cognitive or physical conditions through digital music technology, vastly improving quality of life.
Image Credit: Marco Hofsté