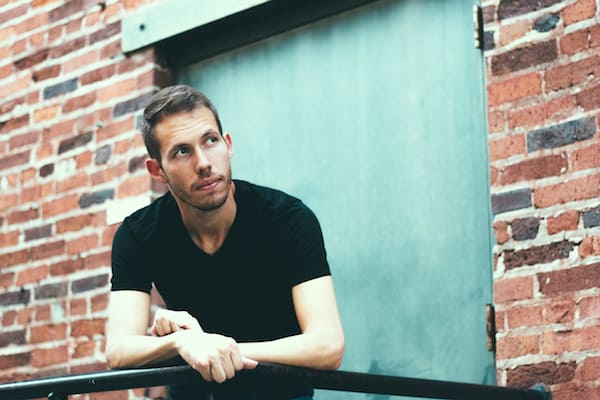 For Nashville musician Paul Johnson, MUSIC & MEMORY® is more than a non-profit organization that deserves his financial support. It's a reminder of a conscious choice to make music his life's work. "Here's why we're making music," says Paul. "When it becomes an important part of someone's life, that's a powerful and beautiful thing."
Music has been part of Paul's life for as long as he can remember. Growing up in Fargo, N.D., he was surrounded by singing and harmonizing. His parents met in a college folk trio, and guitars were always within easy reach at home. Paul was also surrounded by a close-knit family. His paternal grandfather, Bob, and extended family lived just across the Red River in Minnesota.
When Paul was a teen, Bob developed Alzheimer's. His father would often visit and help with Bob's care. Their relationship made a huge impression on Paul, as he watched first-hand how his grandfather's health and mental ability deteriorated over the last years of his life.
"What was equally as impactful, if not more so," he says, "was to see the effect on my Dad, slowly losing his parent, but also, in that loss, finding places to celebrate. Those moments of presence and light were all the more important."
A Reminder of Music's Personal Impact
So when Paul, now a full-time professional musician, happened across the Music & Memory documentary Alive Inside while surfing Netflix several years ago, he was deeply moved: "I remembered how a good day could be such a breath of fresh air, a day when you saw a little of the person that you knew. I wished we'd had this information sooner, to try it with my grandfather."
Music & Memory's mission to spread the power of personal music also struck a chord with Paul: "How music can be a soundtrack for important moments in people's lives, how it benefits both individuals and their caretakers. As a musician, I was really affected by the way the music could be impactful."
Paul's musical career has evolved over the past decade, beginning when he came to Nashville as an 18-year-old to study the business of music at Belmont University. That lasted a year. Paul's real passion was playing music and song-writing, so he began working part-time as a session player for other musicians, and in the process, learned to produce his own compositions.
For the past three years, he has worked full-time writing songs, producing them, and performing under the name Canyon City Building an online audience via Spotify, Apple Music and YouTube videos, he describes his style as "indie folk."
Philanthropy as a Business Cornerstone
Recalling his grandfather—known as Big Red because of his tall stature and red hair—Paul is wistful.
"He was a humble guy, not one to brag about his experiences," he says of the man who was first in his family to go to college with a basketball scholarship, earned a doctorate in physical education, helped found Southwest Minnesota State University, started his own business and served in the 82nd Airborne.
"He didn't recommend jumping out of planes!" says Paul. "He was always hardworking. Family was really integral to him."
As Bob's life drew to a close, Paul says, "I felt like I was getting to know him as he was going. You hear all these stories, windows into the seasons of life. It was like meeting and losing a person at the same time. My hope, as I get older, as my family and friends get older, is that there will be treatments available that will allow us to have those moments of presence more often than not."
Supporting Music & Memory was a natural step toward realizing that hope. "I always want an element of my work to be philanthropic," says Paul. "It helps me to have that commitment, to help the world as I move through it. As Canyon City grows, I want to build in ways to be generous and doing good. Music & Memory was an obvious choice to support. It's about more than the music. It's a consistent reminder to me why this is good work."
To learn more about how you can support Music & Memory, please contact Michele Mosko, mmosko@musicandmemory.org.
Founded in 2010, MUSIC & MEMORY® is a non-profit organization that brings personalized music into the lives of people with cognitive or physical conditions through digital music technology, vastly improving quality of life.
Image Credits: Paul Johnson and Canyon City