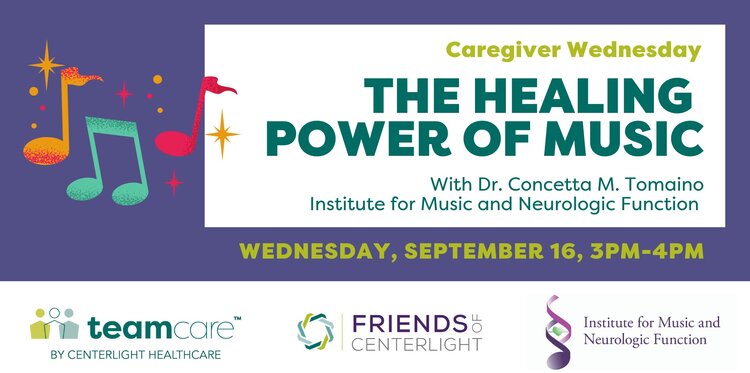 Personalized music is a simple, yet powerful means of supporting the well-being of those in your care.  Join us in attending The Healing Power of Music, a free Facebook Live Program presented in cooperation with the Friends of CenterLight Foundation and the Institute for Music and Neurological Function to learn more about how you can use music to improve someone's quality of life, and the cost and quality of their care.  Featuring Music & Memory board member and co-founder of the Institute for Music and Neurologic Function, Dr. Concetta Tomaino, this 1-hour online presentation will introduce ways that caregivers can use music to benefit their loved ones and themselves.
Wednesday, September 16th
3PM-4PM EST
VIEW FLYER
REGISTER
About the Speaker
Dr. Tomaino is internationally known for her research in the clinical applications of music and neurologic rehabilitation. Her research is focused on finding the most effective music-brain treatments that can potentially benefit those living with the effects of dementia, Alzheimer's and Parkinson's diseases, stroke or trauma. A past president of the American Association for Music Therapy, Dr. Tomaino is a recipient of the Award of Accomplishment from Music Therapists for Peace at the United Nations.