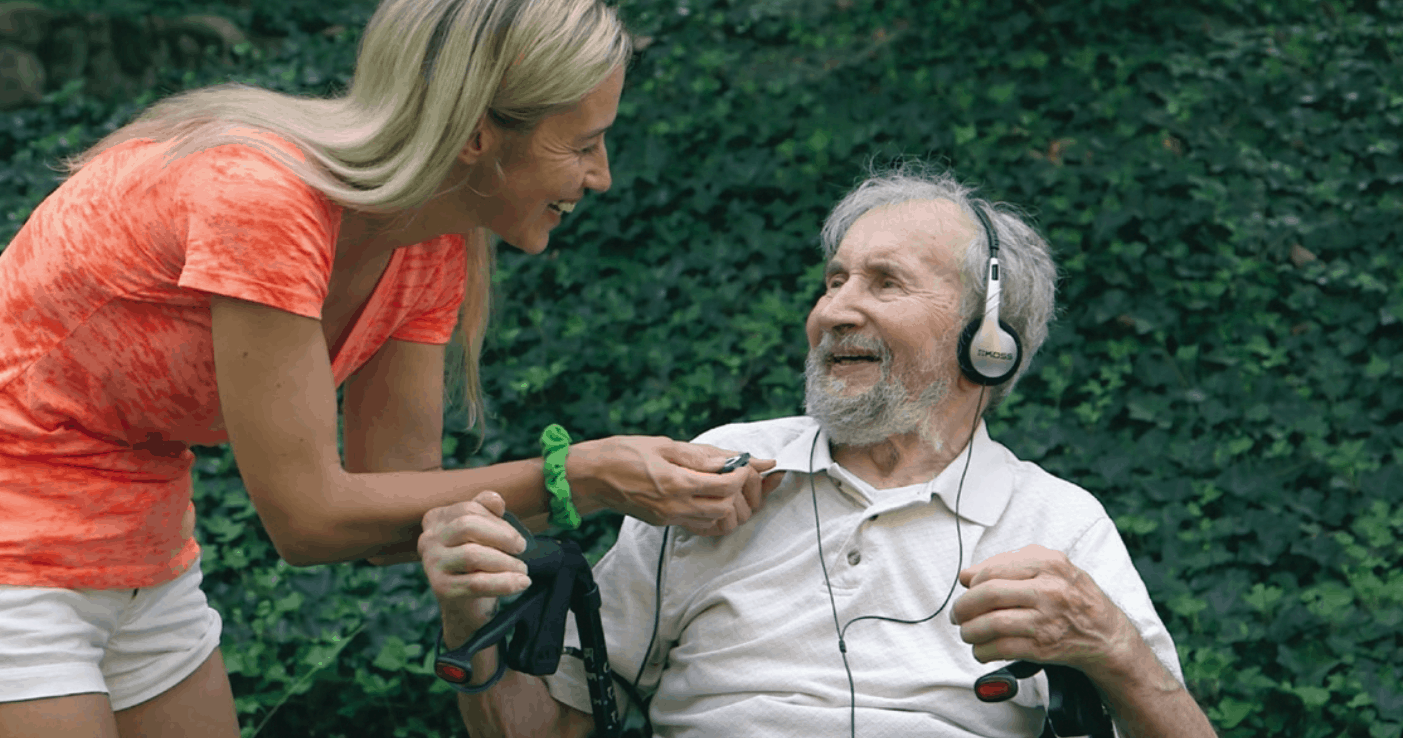 Since our founding, we have constantly looked for ways to improve and expand the services we provide to those most vulnerable.
While the need to reach those living in residential health care settings is great, 70% of the 5 million Americans with dementia are being cared for at home by family members who do their best to cope with the daily challenges of the disease. For many people with dementia, getting the support necessary to promote optimal quality of life while living alone at home can be a challenge.
To meet this need, Music & Memory expanded the scope of its services in 2018 by launching MUSIC & MEMORY® at Home, a specialized training designed to help support individuals as they "age in place" and remain at home longer through the use of personalized music playlists. Offered with the support of community partners, the training offers a low-cost, effective approach that brings joy, eases pain, reduces stress and facilitates social connection. For caregivers, it provides an entryway to more meaningful relationships — as well as a way to ease transitions, avoid distress and save time.
In the Spring of 2020, Music & Memory pivoted again to help those impacted by the pandemic by launching a new service – MUSIC & MEMORY® Tablet Engagement. Designed specifically to provide more in-room activities to help reduce the emotional and physical effects of isolation, the training includes using FaceTime and Skype to stay connected with family and loved ones, creating a personalized music playlist, and engaging in interactive or individual activities with recommended music engagement apps.
As the impact of the pandemic continues to evolve, our goals remain the same; to shape and reshape our services as often as necessary to provide the right tools and resources for those who need them most. Now more than ever, personalized music playlists can make a big difference in people's lives, and as we celebrate our anniversary we remember the staff and volunteers that worked so tirelessly during the last few years to continue using tools like Music & Memory to help maintain quality of life for those in need.
We hope you've enjoyed the stories we've shared over the last few weeks in celebration of our anniversary.  If you'd like to read more, visit our website, musicandmemory.org/ourstory.
Best wishes,
Music & Memory