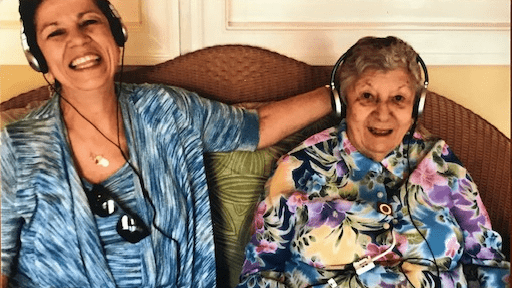 Meet Connie, who participated in the Music & Memory program at Harbor House in Oyster Bay, New York. When Connie first arrived at the program, it was difficult for her to communicate with family and staff, but when she was listening to her favorite music, she was filled with joy, and was able to sing along and remember every word. Connie was especially passionate about her favorite Italian artists, including Frank Sinatra, Dean Martin, and Jimmy Roselli, and from the moment she turned on the music and put on her headphones, she became her old self: she was happy, smiled more and enjoyed the company of others.
Music has made a big a difference in Connie's life and the lives of seniors just like her. It's made it possible for them to:
Receive a music playlist loaded with favorite music
Enjoy countless hours of personal engagement
Find joy and renewed connection with others
These individuals benefit every day from having access to their favorite music. It enhances their quality of life, restores their sense of identity and connection to others, and provides a foundation for having as much comfort, pleasure, meaning and well-being in their days as possible.
Did you enjoy this story? Please take a moment to share why you like Music & Memory by posting a note or picture on your social media page and tag our Facebook, Instagram, and/or Twitter accounts.