MUSIC & MEMORY® at Home Training
Personalized Music Training
for Professional Home Care Organizations
Cost: $2000 (At home kits not included.)
Music & Memory membership for one year, including one year of unlimited training and support;
Training for an unlimited number of staff and volunteers;
Dedicated phone/email/Zoom support;
Monthly support webinars
Support includes additional focus training, such as tablet training, technical device training, and working with people who have hearing impairment.
To speak with a representative, please email info@musicandmemory.org, or click here to book an appointment.
MUSIC & MEMORY® At Home Training offers a field-tested approach to providing personalized music in a professional at home setting. Attending staff will learn how to discover favorite music and create personalized playlists for those in their care using the Music & Memory at Home Kit. As a certified organization, your entire team will benefit from unlimited training, peer-to-peer advice and support, and a wealth of resources — from policies and procedures to evaluation tools and forms.
You'll learn how to . . .
Introduce Music & Memory to those in your care and their families;
Develop personalized playlists for each individual participant;
Create and maintain an easy-to-search music library;
Manage equipment security and hygiene;
Scale your program across your organization;
Create quality initiatives based on personalized music;
Use assessment tools to improve your program;
Build a community constituency that supports your efforts and helps you to grow your program.
Each Music & Memory at Home Kit provides all of the equipment needed to bring personalized music to those in your care in a professional at home setting. And that's just for starters! As a member of our Music & Memory Care Community, you'll have access to all the latest program support, research, tracking tools, marketing materials and more.
"We couldn't think of a better way to provide personalized care than to bring people the music they love. This program is all about bringing joy into people's live."
- Kim Flanigan, Area on Agency on Aging, Ohio
MUSIC & MEMORY® At Home Kit
The MUSIC & MEMORY® At Home Kit contains everything you need to provide personalized music playlists in an at home setting, including:
Music player
Headphones
Bluetooth speaker
Spiral-bound M&M At Home Guide
Drawstring "go bag"
Equipment instructions
Flash drive with videos and helpful resources
Alive Inside DVD
Cost: $220 per kit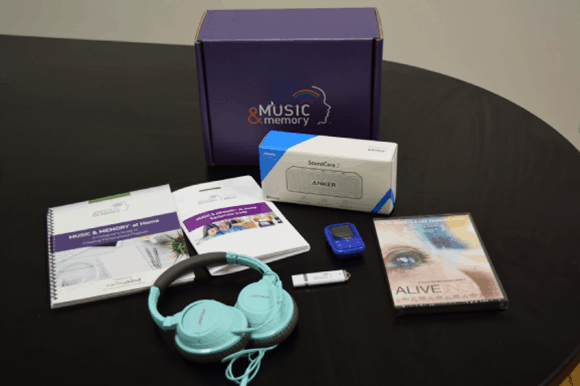 Enrollment
MUSIC & MEMORY® At Home Training consists of one 90-minute live webinar* and provides attendees with field-tested methods for first piloting a Music & Memory program, then scaling their program to be organization-wide. Training also includes guidance for supporting home use of the MUSIC & MEMORY® At Home Kit. Following the training, all team members will have a full year of access to unlimited training (including Tablet Training), resources, volunteer support, free music, peer discussion, and email/phone support from Music & Memory.
*Training dates are determined at registration. On demand training available upon request.
Pricing
$2,000 Certification*
$220 Per Kit

(includes shipping & handling)

Unlimited training for staff
Specially selected equipment in an all-in-one package
One year of email, phone and peer support**
Customized with your logo
Access to our password protected support website,

Music & Memory Care Community

, to learn best practices, obtain program resources such as evaluation tools.
20 kits minimum per shipment
*$200 annual renewal fee will be invoiced starting in year two for continued access to Music & Memory training and support services.
**On site launch event attended by M&M for an additional fee