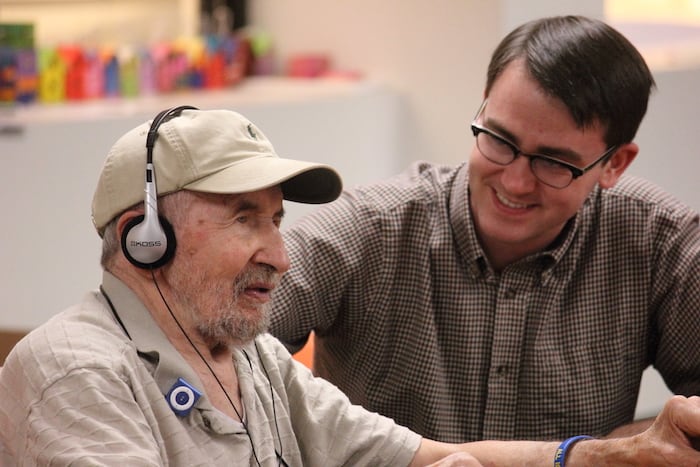 It was one of those challenging days at a nursing home near Indianapolis. A resident with late stage dementia was agitated, trying to get up from his seat and walk, although he was at risk of falling. Tending to him, nursing staff were unable to spend time with other residents and complete work that had to be done. Everyone was stressed.
That's when speech language pathologist Natalie Scott pulled out a digital music device and began playing some of the man's favorite music. "I was covering for another therapist, trying to work on verbal expression," she recalls. "He was able to sit in his recliner and listen. When I turned off the music, within a minute or so, he said, 'I was listening to that.' The nurse told me she had never heard him speak before."
As Natalie shared online images with the resident, she soon discovered that he was a retired fire chief. After viewing pictures of fire trucks and other equipment, he told her he wanted to get his fire hat. "It was a really great session," says Natalie. "And the CNA's and nurses were able to finish lunch with the other residents and distribute meds. It was pretty amazing."
Applying MUSIC & MEMORY® to Physical Therapy, Occupational Therapy and Speech Language Pathology
That experience inspired Natalie and physical therapist Jan Bays to team up and promote Music & Memory's personalized playlist program to support a range of therapeutic applications, including physical therapy (PT), occupational therapy (OT) and speech language pathology (SLP).
"Music & Memory helps set up the person to do the therapy task successfully," says Jan, now Director of Program Development and Education for Jill's House in Bloomington, Indiana. "It makes the garden fertile."
For example, when someone with a hand problem sees an occupational therapist, they may experience a lot of frustration and pain, trying to get their hands to move once again or regain strength, coordination and range of motion, explains Jan. Listening to their favorite music can help to distract them from discomfort and stay motivated.
The same holds for physical therapy. "One of the first successes that we had involved a person who really needed to work on repetitive exercises on an exercise bike, to increase range of motion and aerobic capacity" she says. "The therapist just couldn't get them to do it for even five minutes. We put on the personalized music and they did it for 15 or 20 minutes."
For elders with dementia or other cognitive impairments, says Natalie, personalized playlists can be used to arouse attention and help with self-feeding: "As someone is more alert and able to self-feed, it also directly reduces the risk of swallowing difficulty, because they are better able to self-monitor."
There are many more ways to enhance therapy with personalized playlists. For example, playing the individual's favorite music 15 minutes before a therapeutic session, such as personal care training for Activities of Daily Living (ADLs), can be invigorating and increase alertness and attentiveness to the task. Jan adds that when the person is depressed and even less willing to participate in therapy, that special music can give them a "big dopamine dump," which boosts their involvement.
Together, Jan and Natalie offer a two-day webinar through Music & Memory, specially designed for PT, OT and SLP therapy applications. Therapists who work in a MUSIC & MEMORY® Certified Care Organization are eligible for the training; once they have completed the webinars, they can introduce the program to other MUSIC & MEMORY® Certified Care Organizations where they consult. The webinars explain Music & Memory's particular benefits for these therapies; specific applications for people with dementia, medical complexities and those in short term rehab; as well as the nuts and bolts of documentation, billing and program development.
Building Quality Relationships with Personalized Playlists
In addition to improving patients' attention and willingness to perform tasks, personalized playlists can help therapists to build the quality personal relationships that are so essential to a successful outcome. Favorite music "helps to make that connection with skills that are old and already known," says Jan. "It's helping the person attend to the past. It's helping the person to find the energy and attention to relate. You have to make that connection and create a relationship before you can effectively teach. Therapists are invading people's personal spaces, and you have to have a relationship with someone to successfully invade their space. Personalized music is a great way to do that."
Therapists and their patients aren't the only ones to benefit. Family members do, too. "It's very common when family visit someone with a cognitive impairment, they don't know what to say or do," says Natalie. Sharing a personalized playlist can help to bridge that gap: "I can come up with a functional communication task to help communicate with their family member, to facilitate automatic verbalizations, the ability to appropriately engage and communicate."
For caregivers, personalized music is also an important tool. Therapy, explains Jan, has three major goals: to restore function, to teach compensatory strategies for functions that can't be performed in their customary way, and to adapt the person's environment for success. Educating caregivers how to use personalized playlists at home to enhance the patient's follow-through with therapy can reap huge benefits for all involved. "Music & Memory is a big way to adapt the person's environment," she says.
"What we have to do, especially for people living with dementia, is to give them an environment in which they feel competent," says Jan. "They know who they are and they know what to do. Music & Memory makes that connection to a time when the person was competent and they felt comfortable."
For details about MUSIC & MEMORY® Therapy Applications Training, please click here.
Founded in 2010, MUSIC & MEMORY® is a non-profit organization that brings personalized music into the lives of people with cognitive or physical conditions through digital music technology, vastly improving quality of life.
Image Credit: Alexis Gregos