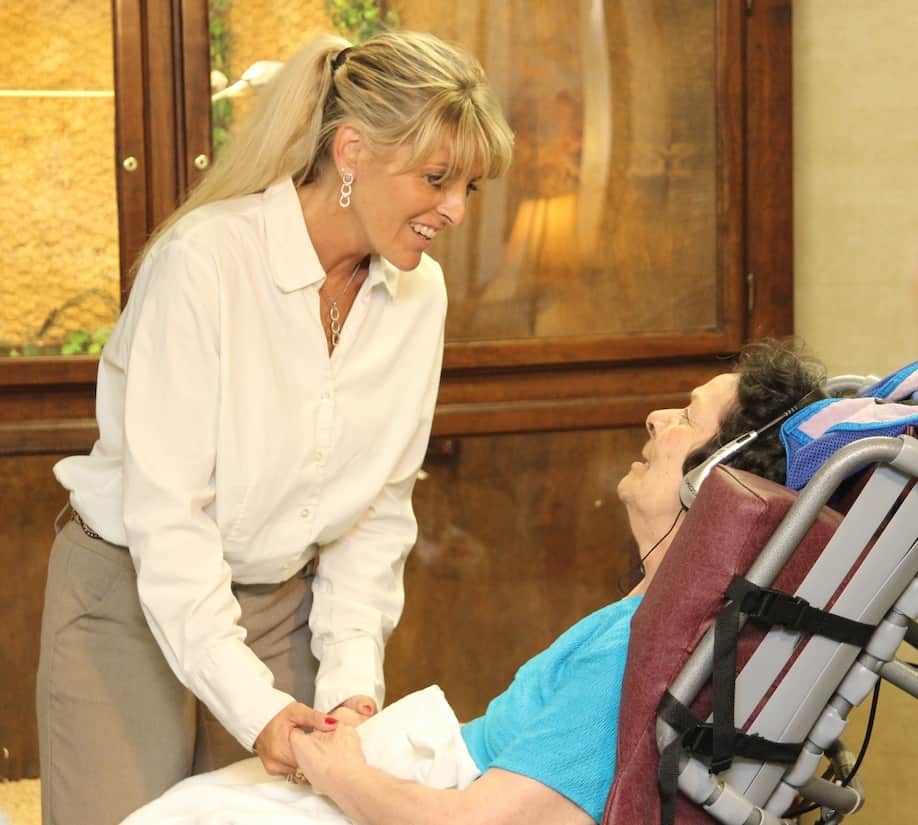 As MUSIC & MEMORY® gains momentum nationwide, Ohio has become the third state to launch a Music & Memory Initiative.
The Ohio Department of Aging (ODA) and Office of the State Long-term Care Ombudsman have set a goal to enable 250 nursing homes statewide to become MUSIC & MEMORY® Certified Facilities in 2015. Prior to the project launch in January, 22 Ohio facilities had already completed the certification process and currently offer personalized music to their residents.
"Music & Memory is a key initiative that helps us extend person-centered care to the next level—recreating life," says ODA Director Bonnie Burman.
"When you put on a CD at home, are you engaging in music therapy? No, you're engaging in life," says Burman, who is former CEO of the Pioneer Network. "Listening to favorite music is not a program. It's a part of life."
A Quality Improvement Option to Meet Licensure Requirements
Music & Memory is now one of several quality initiative projects within Ohio's Medicaid reimbursement system for nursing homes. In addition, state law requires nursing homes to engage in a quality improvement project every two years. Music & Memory is among the programs from which they can choose.
The project is funded with civil money penalty funds collected from nursing homes with certain deficiencies. Federal regulations require that the funds be used to improve quality of nursing home care and for protection of residents. Ohio's ombudsman program has used the funds for a variety of person-centered care strategies over the past several years and is adding Music & Memory to that on-going work this year. Wisconsin was the first state to tap this fund specifically for a statewide Music & Memory initiative, followed by Utah.
Wisconsin officials have been very helpful to Ohio's team, answering questions and giving advice for the project launch and implementation, according to Erin Pettegrew, Ombudsman Projects Coordinator in ODA's state ombudsman office. She has already received more than 90 inquiries from nursing homes about participating in the project and 40-plus signed participation agreements.
The State Ombudsman office has developed a student service project to engage youth. In addition, at least 22 long-term care ombudsmen at the regional level have completed Music & Memory training in order to educate providers, residents, families and the community.
Key Strategy to Reduce Antipsychotic Use in Nursing Homes
Director Burman is optimistic that the program will be fully subscribed. When she gave the plenary address at the recent Ohio Health Care Association (OHCA) convention, she spoke about the Music & Memory initiative. During a screening of Alive Inside, she says, everyone was "off their smart phones and tablets, fully engaged."
In a complementary program, OHCA is offering scholarships to the first 100 members who apply to become MUSIC & MEMORY® Certified Facilities. By the end of Alive Inside, Burman says 30 nursing homes had already completed their applications.
Burman sees Music & Memory as an important strategy to help reduce antipsychotic use in nursing homes, in concert with the national Partnership to Improve Dementia Care. Ohio nursing homes' average rate of antipsychotic use is currently 22 percent. "We're focused on antipsychotic reduction," says Burman. The use of antipsychotic medications for individuals living with dementia can have negative health consequences.
Homes participating in the Music & Memory initiative will monitor baseline quality measures such as use of antipsychotics and symptoms of depression, and will collect data both pre- and post-program implementation to assess outcomes. At least five residents must have been diagnosed with dementia for the facility to qualify.
While residents and caregivers in any nursing home can benefit from the program, state officials expect it will be most beneficial for those homes that exceed the statewide average for percentage of long-stay residents who receive antipsychotic medications, who have depressive symptoms or who report moderate to severe pain.
Goal to Expand Music & Memory to Community Settings
To assist with smooth program implementation, regional ombudsman programs and one Alzheimer's Association will work with nursing homes to introduce Music & Memory's benefits to key staff, as well as to family and resident councils. They will also solicit donations of new and used iPods to support the program.
Even as Ohio's initial focus is to introduce Music & Memory to nursing homes, the Department of Aging and State Ombudsman are partnering with community-based organizations, such as caregiver support groups, to spread the benefits of personalized music statewide, regardless of where elders may live.
"Our goal is to create the most responsive care and caring possible to increase our elders' well being," says Burman. "Programs like Music & Memory are all about building relationships. Home is where they know you."
 Photo Credit: Ohio Department of Aging
Founded in 2010, MUSIC & MEMORY® is a non-profit organization that brings personalized music into the lives of the elderly or infirm through digital music technology, vastly improving quality of life.