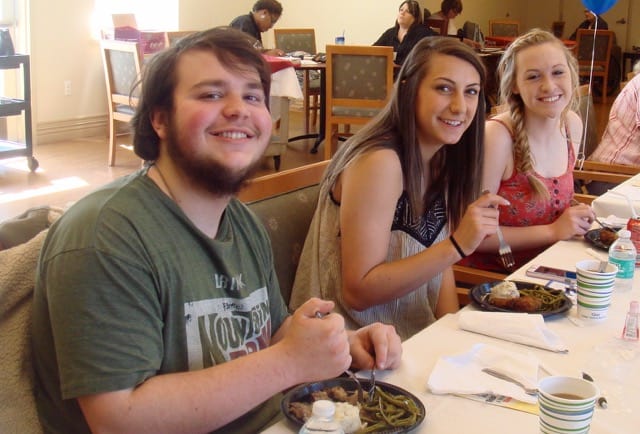 When the six high school students first met last fall in Nancy Van Alstyne's class, "Music and the Mind," they were skeptical. The goal of the yearlong course at Baptist Park School was to help create personalized playlists for residents of nearby MediLodge of Taylor, Michigan, a skilled nursing and rehabilitation facility.
"One of the students told me later in the year, with all the different personalities in the room, that he thought it would never work. But it did," says Nancy. "And the reason it did was that we were working to serve others."
This past weekend, the six students were honored at a luncheon at the care facility, where they have spent hours each week helping to refine choices of musical favorites for residents.
Seeing Beyond Stereotypes About Aging
 "I learned that my life is not my own and I am not alone in it," wrote junior Joshua Dawson in a reflection about the course. "Every one of us is an individual with a history completely unique to themselves, and only truly understood by them, and one shouldn't be so quickly labeled as someone typical to their generation."
"In our society we have been warped into thinking of the older generation as scary, and this class has given me a heart for them," wrote senior Betsy Posont. "One of the most memorable moments was when their eyes light up when they hear the music for the first time. . . You see them and life seems like it was taken from them, and when the music hits their ears their eyes light back up."
Those reflections bring tears to Nancy Van Alstyne, who has taught art classes at the private Christian school for 25 years. "Baptist Park has a real heart for service," she says.
This past year, following the death of her mother at 96 from complications of Alzheimer's, Nancy decided to do something different. Learning of MUSIC & MEMORY® from friends after posting videos of her mother enjoying music on Facebook, she offered to volunteer at MediLodge and the school, in her mother's memory, to bring personalized playlists to the residents.
Recognizing What Makes Each Person Unique
Working with MediLodge Social Services and Activities Director Jennifer Williams, Nancy did the preliminary research of identifying residents who would benefit from the program, then narrowed down their favorite performers and genres. The students would then sit with one of the residents, using a splitter so all could hear, play different selections from a given artist, and note the resident's reactions to see which song got the strongest positive response. Armed with that research, Nancy created the playlists.
There was the Polka Lady who loved her Polish folk tunes, and the man who loved to hear Elvis singing gospel. Others favored Johnny Cash, Motown (not surprising, given that Taylor is just 15 miles south of Detroit), Frank Sinatra, the Lennon Sisters and the Andrews Sisters, Duke Ellington and the Norman Luboff Choir.
As part of the course, Nancy taught the students how to interact with the residents. "We watched videos and practiced approaching them from the front, at eye level, learning to speak clearly and slowly, the importance of a touch of the hand, smiles," she says. "They learned to appreciate that each resident has a story."
Spreading the Word through The Longest Day
The experience has had a profound impact on the students. In June, participating in The Longest Day—a 16-hour marathon fundraising event for the Alzheimer's Association—Joshua plans to train other students how to do what his class has learned.
Employees from MediLodge will also participate in the event, and Nancy will be showing Alive Inside, the documentary about Music & Memory, several times throughout the day to raise awareness and enthusiasm for MediLodge to consider becoming a MUSIC & MEMORY® Certified Care Facility.
Nancy hopes to draw not only on the Baptist Park student body to volunteer for The Longest Day, but also on students from nearby Trenton High School. She has a good connection: an honors student from Trenton High, Lucy Moberly, did a service project to help the Baptist Park Music and Mind class by collecting iTunes cards and used iPods. It was her mother, Jennifer Moberly, who first told Nancy about Music & Memory.
Learning to Value Every Moment
As she looks back on this year, Nancy often recalls her mother, Millie Barkalow Peterson, in her final days, and the joy she derived from music while in hospice at another area nursing home. "She would sing 'Jesus Loves Me' and 'In the Garden' with such delight, with the music therapist," says Nancy. Enabling her students to bridge the generational divide and discover the power of personalized music has brought her a great sense of accomplishment.
And the proof is in the students' reflections. Sophomore Ruth Doty summed it up this way: "By helping all these different residents it is cool to see the diversity between them by the music they connect to. . . . My experience has shown me that everyone is unique and has their own story. I've also learned to live in the moment and not take the life you have for granted. These residents live in the moment because that's all they can do. We all need to start living in the moment because time isn't promised to us, just like it isn't to them."
Founded in 2010, MUSIC & MEMORY® is a non-profit organization that brings personalized music into the lives of the elderly or infirm through digital music technology, vastly improving quality of life.